March 7, 2023
Ixthuluh – Smash LP (Noise Appeal Records)

Noise Appeal Records is the best place to start your journey if you're curious about the Austrian alternative and underground music scene. These guys proved this many times, and if you ever had a chance of holding any vinyl or CD published via Noise Appeal, then you know they're not joking around. From the sound .....
It's a confident, sincere, raw performance that showcases the way you could hear this experienced band performing somewhere on the stage. ......
Ixthuluh
Smash
5 Sterne
Noise Appeal Records History Series #1
Die relativ kurze, heiße Phase des "Krautrock" ab Ende der 60er, aus welcher später im elektronischen Bereich weltweit bekannte Bands enstanden, schlug in Österreich weniger, aber doch auch durch.
Eines jener Musikerkollektive nannte sich Ixthuluh und begann 1976 eher mit Jazzrock, um dann, bis zu seiner Auflösung 1981, dem jam-beseelten Krautrock in die Hände zu fallen.
Live-Konzerte wurden im herkömmlichen Sinn keine gegeben, man spielte eher auf - manchmal tagelangen - Partys, etwa am eigens 1977 erworbenen Bauernhof, ohne fix geprobtes Material sondern stets improvisierend.
Manchmal lief dabei ein Rekorder mit und dieser Tatsache verdanken wir, 40 Jahre später, vorliegende Platte.
Till Philippi vom Vinyl & Music Festival, Dominik Uhl von Noise Appeal Records und - wie könnte es anders sein - der unermüdlich vinyl- und musikforschende Hans Pokora brachten einige Aufnahmen wieder ans Licht.
Vier Tracks werden - remixed für Vinyl - geboten, einer davon, "The Long Trail To Gila Bridge" nimmt mit knapp 20 Minuten die gesamte B-Seite ein.
Wer auf Krautrock steht, und das sind nicht wenige, weiß, was ihn/sie erwartet: pure Spielfreude, in keinster Weise durch ein musikalisches Korsett eingeengt und dennoch fließend ohne abrupte Brüche, wie man sie manchmal im Free-Jazz ortet.
Ein großes Verdienst, dieses Stück heimischer Musikgeschichte zugänglich gemacht zu haben!
Herausgebracht wurde die LP exklusiv für das Vinyl & Music Festival in Wien, 50 Stück davon in bordeaux-rotem Vinyl. Beigelegt ist der Scheibe ein acht-seitiges, großformatiges Booklet, die schwarze Innenhülle ist gefüttert und das Cover von einer Banderole umschlossen.
Concerto, vinyltöne, 3/2020, by dietmar hoscher
(23.4.2020) filmsoundmedia.at
---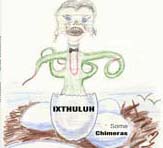 (27.5.2014) progarchives.com / slush
Years ago I wrote a few Ixthuluh reviews. Now I got the new CD Some Chimeras and played within a week several times. This is typical Ixthuluh food, extended fusion-jams far out. However, and this is surprising, is the fact that the recording quality of this CD is much better than that, what Ixthuluh published 10 years ago. No idea where they unearthed this stuff. The music is not very different from the earlier recordings, but the better sound makes it much more pleasant by listening to these unconventional pieces. Especially Track 4 (the well disposed Lindworm starts like a Pop-Song and develops to fusion underground) and the Chamber Rock session (a wild mixture without any style) I like. This is really wild Kraut. Musically more catchy are the first three tracks, this is more fusion, similar to the first Ixthuluh release "Yes We Are A Jazzband". But more interesting I find the following thren tracks. The endlessly long closing track Superspych goes underground, as if Fat Freddy's Cat does a Zen meditation (10 hours motionless). Anyway, an interesting extension of Ixthuluh, I would not mind if they dig more of this better recorded material.
---
(4.2.2012) www.raveup60.fr
Ixthuluh (1976/81) n'est pas un groupe allemand mais autrichien. Du Krautrock défini par un style Jazz-Rock selon le site, je ne peux pas confirmer puisque je n'ai écouté que cet unique album, "Tea at Two", qui date de 1980 et qui évolue plutôt dans un style Space-Rock psychédélique, même si la formation se laisse aller à quelques interprétations personnelles.
Une musique flottante et brumeuse, un Lp enfumé qui autorise sans détours de longs voyages chimériques. Cinq étoiles.
Ixthuluh (1976/81) ist keine deutsche, sondern eine österreichische Gruppe.
Als Krautrock definiert wird je nach Standpunkt ein Jazz-Rock-Stil.
Ich kann das nicht bestätigen, da ich nur dieses einzige Album "Tea at Two" gehört habe, das aus dem Jahr 1980 stammt und sich eher in einem psychedelischen Space-Rock-Stil entwickelt , auch wenn Raum zu persönlichen Interpretationen bleibt.
Eine schwebende und neblige Musik, eine rauchige Lp, die ohne Umwege lange chimäre Reisen zulässt. Fünf Sterne
---
4.5.2010, vive / müllberg variationen /
http://www.viceland.com - from: SCHRINGO PELZ
Ende der Siebziger noch in eine Kommune zu ziehen, ist ungefähr so, als würden wir heute Glowsticks für das nächste große Ding erklären. Das wussten die Krautrocker von IXTHULUH bestimmt selber und nannten die 2-Zimmer-Waldhütte, die sie 1977 mit 8 1/2 Menschen bezogen, "Kollektiv". Das klang ihrer Meinung nach besser und beweist, dass Österreich schon damals ein bisschen dem Trend hinterhergelebt hat. Immerhin: Auch hierzulande gab es in den Siebzigern musizierende Langhaarige, die ihre Nazieltern gehasst haben.
Was die Band mit dem szenetypisch hirnverbrannten Namen in Waldviertler Scheunen und Wiener WGs aufgenommen hat, klingt jedenfalls besser als vieles, was man damals sonst für veröffentlichungswürdig hielt. Hits sucht man vielleicht vergeblich, dafür war anscheinend aber die richtige Dosis Naturdrogen im Spiel. Alles klingt angenehm verharzt und die 20-Minuten-Jams sind nicht einmal ansatzweise nervtötend. Das beste Album ist wahrscheinlich "Tea at two", das allerdings erst aufgenommen wurde, nachdem sich das rechte Schlafzimmer des "Kollektivs" mit dem linken zerstritten hatte und eigentlich nur noch zwei Leute übrig waren. Schlagzeuger Ernst Matscheko hat auf seiner drolligen Website mehr zur Bandgeschichte und hält sämtliche Alben zum kostenlosen Download feil.
---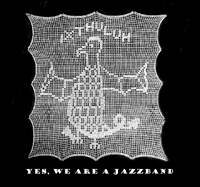 stevefreeman; http://www.discogs.com/lists/Of-Cuckoos-And-Scrambled-Eggs/185160?page=2
Ixthuluh - Yes, We Are A Jazzband
...their early roots, as a rather good cross-genre fusion in the vein of Embryo and Munju, or to quote one review "Man nehme 2 Pfund Gato Barbieri, würze mit jeweils einer Prise Punk, Underground und Rock'n'Roll, nehme sich als Vorbild die Prog...". NO MONEY FOR A RADIO is more Kraut underground, reminding of German Oak, Siloah, Necronomicon, with a selection of jams that are sometimes quite low-fi. Fascinating stuff, actually!
progarchives.com / review by apps79
An Austrian band playing in a Kraut-oriented style.Formed in 1975 in Amstetten they were led by Dita Lasser on guitars/vocals, James Geiblinger on bass, Max Wedl on saxophone and Michael Brandstetter on drums, but the Ixthuluh name, derived from H.P. Lovecraft's ''The call of Cthuluh'', appeared only around April 1976, after the members used Konglomerat, Stoerfaktor and Farmer as alternative options.Recordings from the band's early days (late 75'-early 77') were saved, remastered and offered for free in 2005 on the band's official website as a digital download under the title ''Yes, we are a jazzband''.
The presented material clocks at around 80 minutes and propably comes from one-shot studio rehearsals, as the sounds has this live feeling, but the quality is quite decent.The long tracks are good examples of instrumental Kraut-Jazz Rock in the vein of KRAAN with some ethnic and plenty of psychedelic passages, fairly based on the JOHANNES PAPPERT-like show of saxophonist Max Wedl and the rough, jazzy guitar scratches of Dita Lasser.Nothing to get excited about, but these pieces are typical of the Kraut Rock scene, featuring impressive improvisations, great guitar and sax battles and interesting solos over hypnotic, psychedelic grooves.If you like KRAAN's productions circa 1970-75, you will love Ixthuluh's jazzy executions.Inbetween these extended performances there are several pieces in a more Psychedelic Rock style, some of them feature vocals and the sax is generally absent for a rockier and edgier style.Again the recordings are pretty cool with some jazzy and bluesy influences in the guitar workouts and most of them are driven by sharp lead guitars and frenetic solos, which lack personality, but are performed nonetheless with passion.
Nothing better than discover a free download connected to the 70's and the old-school Kraut principles.KRAAN, KOLLEKTIV and OUT OF FOCUS are good comparisons for Ixthuluh's ''Yes, we are a jazzband'', jazzy and psych leanings around a rhythmic, Kraut-styled enviroment.
review by golowin, Okt.2005
(http://www.progarchives.com/)
Das Debut-Album der Band ist eigentlich untypisch im Gesamtwerk zu sehen. Vor allem durch den nur bei diesem Album anwesenden Bassisten James Geiblinger wurde dieses Album eines, das sehr stark vom Jazz geprägt ist. Max Wedls Sax und der jazzige Bass von James prägten den Sound, der eigentliche Bandleader Dita Lasser spielte auf dieser Platte Gitarre und war meistens nicht der im Vordergrund agierende Solist. Lasser war aber in den Songs, die vom Standardkonzept der Platte abweichen wie "You Can Be Free" - der ein astreiner Punksong ist - der dominante Part.
Man nehme 2 Pfund Gato Barbieri, würze mit jeweils einer Prise Punk, Underground und Rock'n'Roll, nehme sich als Vorbild die Prog-Szene und fertig ist Ixthuluh !
Ein Album, das 1976 aufgenommen noch heute zu gefallen vermag, eine Musik, die sich keinem Zeitgeist anpaßt. "It's Cool" ist das zentrale Thema, das auch immer wieder in anderen Stücken durchschimmert. Erst vier Jahre später erreicht die Band mit "Tea At Two" wieder dieses Niveau, dann aber ohne Jazz - den James Geiblinger 1978 mitnimmt - und sehr psychedelisch.
"Yes, We Are A Jazzband" ist jedenfalls ein Debutalbum, für das sich die Gruppe nicht schämen muß, und das ich mir auch heute noch immer wieder mal anhöre.
The debut album of the band is really untypical in the works of Ixthuluh. Above all the only this disk playing bassist James Geiblinger was reason for the biasing to jazz. The sax of Max Wedl and the jazzy bass of James coined the sound, the real bandleader Dita lasser - playing guitar on this recordings - mostly wasn't the solist acting in the foreground. But Lasser was dominant in songs differing from the album concept like "You Can Be Free", which is a purebred punk song.
Take two pounds of Gato Barbieri, spice with a pinch of punk, underground and rock'n'roll each, always looking forward to prog-music and ready is Ixthuluh !
A recording of 1976, fancying today too, a music not accomodating a time spirit. "It's Cool" is the central subject, gleaming time and again through another tracks. Not until four years later Ixthuluh will reach this level again with "Tea At Two", but now without jazz - which ist token away by James Geiblinger 1978 - but very psychedelic.
Anyway "Yes, We Are A Jazzband" is a debut album the group must not be ashamed of, i'm listening from time to time this very day.
review by otto, mar 15.2006
(http://www.progarchives.com/)
Das ist das erste Ixthuluh-Album und es ist deutlich unterschiedlich zu den späteren. Die Band hat in dieser Besetzung eine Musik gespielt, die sich stark an den Vorbildern der Fusion-Szene orientiert hat. Dadurch sind viele Stücke sehr jazzig orientiert und das wird durch die sehr freie Spielweise mit langen Jams in den Stücken, jedenfalls während der Live-Aufnahmen, noch betont. Daß die Band auch anders könnte zeigt sie in "You can be free", ein Rocksong, der aus der Gruppe eine Punkjazz-Band macht. Die Aufnahmen selbst wirken unfertig und sind mehr Skizzen als fertig ausgefeilte Nummern. Das Album zeigt die Band am Anfang ihrer Stilsuche und damit entsprechend richtungslos. Ixthuluh hat auf den späteren Alben tatsächlich einen deutlichen Stilwechsel hin zu einem psychedelischen Krautrock gemacht, von dem hier noch nicht sehr viel zu bemerken ist. Ich finde das Debutalbum dennoch vergnüglich, es bringt Musik abseits der ausgetretenen Pfade und enthält einige musikalische Überraschungen.
This is the first Ixthuluh album and it is clearly different to the later ones. The band has played in this cast a music which has strongly orientated itself by the models of the jazz and fusion scene. Many pieces thereby are jazzily oriented and this is still stressed by the very free style of playing with long jams in the pieces, anyhow, during the live recordings. The fact that the group could do it also in a different way is pointed in "You can be free", a rocksong which does a Punkjazz-band from the group. The recordings themselves look unfinished and are more sketches than finishedly polished numbers. The album shows the band at the beginning of their style search and with it appropriately aimless. Ixthuluh has done actually a clear style change on the later albums towards to a psychedelic Krautrock, which is hardly to be noted in this disk. I take a pleasant to their debut, nevertheless, it brings music off the well-trodden trails and contains some musical surprises.


---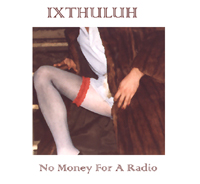 review by golowin, Feb.06
(http://www.progarchives.com/)
Dieses Ixthuluh-Album war im ersten Release sicher das schwächste, das die Gruppe aufgenommen hat. Nun wurde es - mit der Second Edition - neu geschnitten und zusammengestellt. Es dokumentiert eine Zeitspanne, die der Band sehr große personelle Umschichtungen gebracht hat. Durch den Umzug in das eigene, gemeinsam gekaufte Haus schieden der Bassist James Geiblinger und der Schlagzeuger Michael Brandstetter aus. Die Band hat gar nicht erst versucht, die beiden zu ersetzen, sondern wollte mit den vorhandenen musikalischen Mitteln den eigenen Stil finden. Das bedeutete insbesondere eine Abwendung von den komplexen Jazzrock-Stücken (von Yes, We Are A Jazzband) und überhaupt von fix eingespielten Stücken hin zu einer Jam-Band, die sich mit einem Thema frei spielt und dieses aus- und umbaut.
Das kam auch der Möglichkeit entgegen, mit ständig wechselnden Gästen zu spielen und diese und ihren Stil mit in das Gesamtbild einzubauen.
Die Platte zeigt dieses Konzept als noch unfertigen Versuch. Dennoch ist das Album hörenswert und bringt psychedelischen Krautrock, der bereits die Spielweise der im Jahr 1980 folgenden hervorragenden "Tea At Two" vorwegnimmt oder wenigsten darauf hindeutet.
Das Album ist eine versteckte Perle aus der österreichischen Krautrockszene der 70er-Jahre.
This Ixthuluh-album was surely the slightest in his first release, which the group recorded. Now - with the Second Edition - it's new cutted and compiled. It documents a period of big personell changes in the band. By the moving to the own, common bought house bassist James Geiblinger and drummer Michel Brandstetter got out. The band not even tryed to replace them, but wanted to find the own style with it's available resources. That implied particularly a turn away from the complex jazzrock tracks (of Yes, We Are A Jazzband) and anyway from fix brought in tracks to a jam-band, free playing with a theme and this enlarging and changing.
This approached to the possibility to play with ever changing guests and to integrate their style into the Ixthuluh general sound.
However this disk shows this concept as an unready trial. Nevertheless the disk is worth hearing and brings psychedelic Krautrock, anticipating the kind of playing from the terrific 1980 album "Tea At Two", or referring to this at least.
This is one of the hidden pearls to come out of the 70's austrian underground scene.
review by otto, mar 15.2006
(http://www.progarchives.com/)
Drei Jahre Pause seit dem vorangegangenen Debutalbum haben den Stil der Band vollkommen geändert. Aus der jazzigen Fusion-Band ist eine psychedelische Rockband geworden. Was gleich geblieben ist, sind die skizzenhaftigen Nummern, die manchmal recht unfertig wirken. Doch der Sound der Band, der in dem ein Jahr darauf folgenden Album "Tea At Two" fertig und kompakt erscheint, beginnt bereits deutlich Gestalt anzunehmen. Stücke wie "Flowers, Stones and early Morning", "Surfin' Boomerangs" oder "Sleep Song" beginnen zu fliegen und zeigen die Band in einem neuen Licht. Und mit Nummern wie "Rock and Work" zeigen sie, daß sie auch losrocken können. Das Album ist sicher kein Meisterstück, aber es zeigt eine Band auf dem Weg, und bekanntlich ist der Weg das Ziel. Sicher interessant für alle, die psychedelischen Krautrock mögen und die sich gerne in musikalisches Neuland vorwagen.
A three-year break since the anterior debut album have changed the style of the group completely. From the jazzily fusion band a psychedelic krautrock band has become. What remained are the sketchily numbers which sometimes look rather unfinished. But the sound of the band which appears finished and compact already in the following album " Tea At Two " a year ago begins to accept clearly form. Pieces like "Flowers, Stones and Early Morning", "Surfin' Boomerangs" or "Sleep Song" begin to fly and show the group in a new light. And with numbers like "Rock and Work" they show that they also can rock off. The album is no masterpiece certainly, but it shows a group on the way, and generally known the way is the aim. Sure interesting for all which gladly venture forward in musical new territory and enjoy in psychedelic krautrock.
review by slush, april 14.2006
(http://www.progarchives.com/)
Einige wirklich hervorragende Krautrock-Stücke, neben eher schwacher Durchnittskost. Leider ist das Ganze sehr schlecht aufgenommen, der Sound ist zum Würgen. Neben dieser Platte ist KC'S Earthbound eine Studioaufnahme.
Dennoch, Stücke wie "Flowers, Stones & Early Morning" oder das seltsame und originelle "Offroader" heben die Platte der Österreicher über den Durchschnitt heraus. Das Album ist insgesamt trotz der erwähnten Schwächen ein interessantes Dokument aus der Krautrock-Ära, sehr eigenständig und eigenwillig gespielt und niemals langweilig. Nicht essentiell, aber stilistisch schon klar zuordenbar und für alle zu empfehlen, die den Charme von Krautrock mögen.
Some really terrific krautrockt-pieces, near rather weak unexceptional. Unfortunately, the most is recorded very badly, the sound is to regurgigate. Aside this KC'S Earthbound is a studio recording. Nevertheless, pieces like " Flowers, Stones and Early Morning " or the strange and original "offroader" lift out the record of the Austrians about the average. The album is altogether in spite of the mentioned weakness an interesting document from the kraut-era, very independently and self-willedly played and never boringly. Not essential, but stylistically already clearly and to recommend for all this one which like the charm of kraut.


---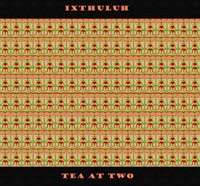 review by golowin, Okt.2005
(http://www.progarchives.com/)
Ich bin überrascht - je mehr ich darüber nachdenke, wer so ähnlich klingt wie Ixthuluh. Der Sound dieser Gruppe ist tatsächlich sehr eigenständig und kaum mit bekannteren Vorbildern vergleichbar.
Das Cover erinnert mich an die Zeit, als man ähnlich bedrucktes Löschpapier in kleine Stückchen geschnitten und so verzehrt hat. Und genau so klingt auch das Album.
Stundenlange Jams wie "Forbidden Fruits", aber auch kurze, einfache Songs wie "Love Pain" ergeben ein sehr abwechslungsreiches Album. Während "Forbidden Fruits" mit seinem kosmisch-meditativem Sound ein wenig an AshRaTempel oder auch Pink Floyd erinnert, kann man das 24 Minuten-Stück "Gila Bridge" nur als Offroad-Rock bezeichen. Bass-Gitarre-Schlagzeug in wechselnder Besetzung prägen das Stück.
Die Besetzung ohne jeden Sythesizer, nur mit Bass, Drums und Gitarre(n), führt dennoch zu teilweise sehr kosmischen Sounds, Ixthuluh hat sich damit geradezu gespielt.
Der Band scheint es wichtiger zu sein, Stimmungen und Gefühle zu transportieren als Wert auf technische Genauigkeit zu legen. "So Sad" mit einem klagenden Sax und dem tragenden Bass ist tasächlich der Ausdruck großer Traurigkeit und in "Sittin' On My Lonely Chair" beschreiben E-Gitarre und Schlagzeug mit ein wenig Vocals eine Sitzung der Gruppe, in der über Probleme mit einem Mitglied gesprochen wird und dieses wie in einer Verhandlung auf einem einsamen Stuhl in der Mitte zwischen den anderen sitzt und so über ihn gesprochen wird.
Die Eröffnungsnummer "Welcome, Touch Me" ist eine intensive, warme Begrüßungs-Umarmung am Anfang der Performance. Und "Steelmill And Animal" eine Soundspielerei von Bass, Schlagzeug und Gitarre.
Die Band spielte kaum öffentliche Auftritte, der Zuhörerkreis waren vorrangig Mitglieder der lokalen Kunstszene, Maler, Musiker und Tagediebe. Die Musik ist entstanden als Live-Musik zu den unzähligen Partys, die dieser Umkreis der Band mit ihr gefeiert hat. Und es waren das jedenfalls bemerkenswerte Partys.
I'm surprised - the more i think about, who sounds similar to Ixthuluh. The sound of the group is actually independent and hardly to compare with more established role models.
The cover reminds of the time, when similar printed blotting paper was cutted to tiny pieces and eaten. And exactly this the album sounds.
Jams for hours like "Forbidden Fruits", but short and simple songs like "Love Pain", too, make a very diversified album.
While "Forbidden Fruits" with its cosmic-meditative sound is a little bit evocative of Ash Ra Tempel or Pink Floyd, too, you can characterize the 24-minutes-track "Gila Bridge" only as Offroad-Rock. Bass-guitar-drums in changing lineups form the track.
The instrumentation without keyboards or synthesizer-electronic, there was bass, drums and guitars only, resulte however in partially very cosmic sounds, Ixthuluh almost played with this.
It seems that it was more important for the band to transport mood and emotion, than to reach sophisticated exactness.
"So Sad" with a lamenting sax and the carrying bass is indeed the expression of great tearfulness. And in the dramatic "Sittin On My Lonely Chair" guitar and drums (with some vocals) describe a session of the collektive about problems with one member sitting on a lonely chair in the middle of them like a hearing, and it is spoken about him.
The opener "Welcome, Touch Me" is an intensive, warm receptions embracement at the beginning of the performance, while "Steelmill And Animal" brings a sound-gimmick of bass, guitar and drums.
The band hardly played public performances, the audience were overriding members of the local art scene, painters, musicians and dawdlers. The music accrued from live-music of the numerous all-night-partys, which was celebrated in the circumference of and with the band. Anyway, this must have been noteworthy feasts.


review by tommynic@Okt.12.2005
(http://www.progarchives.com/)
This essential 1980 album is the surprise of the year 2005 ! Two very long tracks dominate the disk. "Forbidden Fruits" is a song in best old krautrock tradition and remembers to Berlin`s As Ra Tempel, with a pinch of Pink Floyd. "The Long Trail To Gila Bridge" is a song without pattern, the band calls this sound offroad-rock - thats right ! "Sittin On My Lonely Chair" only played by drums and electric guitar seems to be a rumbling song of the exercise room at the beginning and evolves to a song full of urgency and expression. There is no feeble song on this album. Why didn't you publish this jewel earlier, Ixthuluh ?
review by hearmann, 22.jan.2006
(http://www.progarchives.com/)
In einer Reihe mit den seltsamen österreichischen Krautrock Bands wie Paternoster ist auch Ixthuluh einem größeren Publikum weitgehend unbekannt. Diese österreichische Gruppe hat mit Tea At Two ein Album aufgenommen, das Psychedelic Rock mit dem Geschmack und den wilden Erfahrungen des frühen Krautrock bietet, obwohl es erst 1980 aufgenommen wurde. Das kann nicht wirklich überraschen, in Österreich ist eine Menge Jahre hinten. Jedenfalls hinterläßt Ixthuluh ein ausgefallenes und unvergessenes musikalisches Experiment. Das Album steht für sich allein und stellt damit einen Krautrock Klassiker aus Österreich dar.
In one line of the strange austrian krautrock bands like Paternoster, Ixthuluh is rather unknown from a large audience. This austrian group released with Tea At Two an album, that is psychedelic rock with the taste and the wild experiences of early krautrock, though the album is released at 1980. This will not really surprise, a lot in austria is years behind. However Ixthuluh remains an eccentric and unforgotten musical experience.
This album stands alone and marks an austrian krautrock classic.
review by krautandruben, 2.mar.2006
(http://www.progarchives.com/)
Was ist das denn? Ich habe diese mir vorher völlig unbekannte Band beim Stöbern im Netz gefunden, als ich nach alten Krautrock-Perlen gesucht habe. Und nun höre ich mir das Material schon zum x-ten mal an und wundere mich, daß das bisher tatsächlich so völlig unbekannt geblieben ist. Das Album ist eine Sammlung von Songs aus dem Krautrockhimmel. Jeder Track ist anders und doch hat das ganze Album einen durchgehenden Sound, lebt von hervorragenden elektrischen Gitarren und Basslinien, gewürzt mit reichlich seltsamer Percussion und auch Saxes. Der Sound ist rauh und erdig wie King Crimsons Earth Bound. Überhaupt ist die Machart so etwas wie eine Kraut Crimson, auch wenn die Musik eine ganz andere ist. Soundspielereien und fast meditative Stücke ebenso wie rumpelnde und staubende Rockstücke, bis zu 25 Minuten lang durchlaufend, ergeben letztlich ein Doppelalbum voll Überaschungen, Spannung und Spaß, wenn man sich nur darauf einläßt. Gila Bridge ist Kino für die Ohren, galoppierende Pferde, Postkutschen, ein Angriff von Rothäuten, Staub und ein gnadenlos das Gespann vorantreibender Kutscher. Eine E-Gitarre, die gnadenlos die vollen 25 Minuten durchspielt, manchmal leise und schmeichelnd und dann ein fliegendes Tomahawk. Ixthuluh ist mit diesem Album ein großer Wurf gelungen, vielfältig arrangiert und doch aus einem Guß.
What is that? I have found this group absolutely unknown to me while rummaging in the web when I have looked for old krautrock pearls. And now I alredy listened to the material oftentimes and am surprised that this has remained so completely unknown up to now. The album is a collection of songs which are from the krautrock sky. Every track is different and, nevertheless, the whole album has a continuous sound, lives on outstanding electric guitars and bass lines, spicy with richly strange percussion and saxes too. The sound is rough and earthily like KCs Earth Bound. Actually the design is such a thing like Kraut Crimson, even if the music is quite another, this is no compare. Finally sound games and almost meditative pieces just as rumbling and dust creating rocksongs, up to during 25 minutes continuous, prove, in the end, a double album fully surprise, tension and enjoyment if one gets involved only in it. Gila bridge is a cinema for the ears, galloping horses, stagecoaches, an attack of the reds, dust and a coachman pitilessly speeding up the team. An E-guitar which plays through mercylessly full 25 minutes, sometimes quietly and flattering and then a flying tomahawk. Ixthuluh has succeeded a direct hit with this album, has arranged variously and, nevertheless, from a splash. Try this, load it down (you cannot buy).
review by Leonhard, 3.mar.2006
(http://www.progarchives.com/)
Aus Österreich stammt ja nicht wirklich viel gute Rockmusik. In den 70er Jahren waren es vor allen Eela Craig aus Linz und als Krautrocker kenne ich überhaupt nur Paternoster, die aber leider nur ein einziges Album gemacht haben (die steirischen Mashuun haben meines Wissens überhaupt nichts veröffentlicht, aber die waren damals echt gut!). In dieser Reihe steht auch Ixthuluh, auch wenn diese Band einem breiteren Kreis eher unbekannt geblieben ist. Was schade ist und was sich ändern sollte. Mit "Tea At Two" hat die Band nämlich ein Album vorgelegt, das sich durchaus mit bekannten Vorbildern der Krautrockszene messen kann. Die Songs kommen so kraftvoll und spontan, ebenso abwechslungsreich wie ungewöhnlich, daß man als echter Krautrock-Fan völlig überrascht zurückbleibt und sich wundert, daß dieses Album tatsächlich fast 80 Minuten lang ist. So rasch vergeht die Zeit, wenn man sich in die Musik vertieft und immer wieder Neues darin entdeckt, je öfter man sich die Platte anhört. Und ich finde es toll, daß Ixthuluh dieses Meisterwerk völlig frei zum Download anbietet. Ich habe "Tea At Two" als Ganzes heruntergesaugt, samt Cover, und mir eine "Original"-CD gebrannt. Ein Eckstein in meiner Krautrock-Sammlung! Laß Dir Zeit für diese Platte.
Much good rock music does not come, indeed, from Austria. In the 70s there was Eela Craig before all, from Linz and as Krautrockers I only know Paternoster which have done, unfortunately, just one solely album (Mashuun from styria didn't publish anything I think, but they were really good at that time!). In this row also Ixthuluh is standing, even if this band to a broader circle has remained rather unknown. What is a pity and that should change. With "Tea At Two" the band namely has presented an album which can match itself absolutely against known models of the (german) krautrock scene. The songs come so powerfully and spontaneously, as diverse as unusually that a real krautrock-fan remains completely amazedly and is surprised that this album is really during nearly 80 minutes. So quickly there passes the time if one becomes engrossed in the music and discovers new in it over and over again, the more often one sounds the record. And I think great that Ixthuluh offers this masterpiece absolutely freely. I have downloaded "Tea At Two" as a whole, with it's cover, and burnt an "original" CD for me. Diamonds in my krautrock-collection! Let yourselves time for this record.
review by fRed, Mar.10, 2006
(http://www.progarchives.com/)
Ich bin erst im Web auf diese Band aufmerksam geworden. Als Sammler vieler Krautrock-Platten bin ich natürlich neugierig geworden. Und ich wurde nicht enttäuscht, im Gegenteil. Diese Musik ist gerade und hat Handschlag-Qualität. Das ist direkt eingespielt, ohne Rücksicht auf etwaige Fehler oder Ungenauigkeiten. Die Platte lebt aber genau davon. Man merkt es, daß die Musiker den Weg zueinander suchen und dann, wenn sie ihn finden, den Spaß gemeinsam genießen. Ich habe das ganze Album heruntergeladen, denn es macht einfach mehr Spaß, wenn man eine Platte als Ganzes am Stück hört, als wenn man sich nur einzelne Tracks herausnimmt. Was ja nun wirklich keine neue Erkenntnis ist. Die Österreicher spielen tatsächlich vom Stil her wie die typischen deutschen Kraut-Gruppen aus den frühen siebziger Jahren. Die Jungs sind nur etwas zu spät gekommen. Mit dem heutigen zeitlichen Abstand ist das allerding ziemlich egal, es ist das ganz einfach Krautrock, so wie es ihn heute (leider) nicht mehr gibt. Eine Jam-Band mit eigenen Themen und einem eigenständigen Zugang zum Genre. Empfehlenswert. Sollte jeder Krautrock-Fan besitzen...
I have become attentive only in the web to this group some time ago. As a collector of a lot of kraut-recordings I have become curious naturally. And I was not disappointed, on the contrary. This music is straightforward and has handshake quality. This is recorded directly, without taking into consideration any mistakes or inaccuracies. Howsever, the record lives just from it. One notices that the musicians search the way to each other and when they find themselves, they enjoy together. The Austrians play actually a style like the typical German kraurock groups from the early seventies years. The guys have come only a little bit too late, but with the current temporal distance it's all the same. A jam band with own subjects and an independent access to the genre. Recommendable. Should be owned by any krautfan...
review by otto, 15.mar.2006
(http://www.progarchives.com/)
Das Album ist das Meisterstück der Gruppe. Ixthuluh hat sich mit dieser Songsammlung einen Platz in den Annalen des Krautrock verdient. Das Album lebt von hervorragenden elektrischen Gitarren und einem Spiel mit zugehörigen Effekten wie Hall und Echogeräten. Die äußerst unkonventionelle Musik ergibt sich, wie bei Ixthuluh üblich, aus einem weitgehend freien Zusammenspiel, in dem die Musiker wechseln und verschiedene Instrumente bedienen. Diese Wechsel ergeben ein sehr vielfältiges Album, das aber stilistisch als geschlossene Einheit wirkt und jedenfalls zusammengehörig erscheint. Die skizzenhafte Musik, die man aus den anderen Ixthuluh-Alben kennt, ist auch hier vorhanden, aber die Stücke erscheinen auf diesem Album doch etwas kompakter und weniger zufällig. Die Nummern aus sehr ruhigen, fast meditativen Gitarren-Elektroniksounds, völlig ohne Keyboards eingespielt, erinnern an die deutschen Soundbastler aus den frühen Krautrocktagen, während mit "The Long Trail To Gila Bridge" ein zunehmend wildes Rockstück über fast 25 Minuten abläuft, das sich an keinem Vorbild orientiert und das Werner Katzmair als Marathon-Mann auf der E-Gitarre ausweist. Dazwischen finden sich kürzere Songs wie "Love Pain", ein Stück das mich an die kleinen Songs der frühen Pink Floyd erinnert. Die Mischung daraus ergibt ein Album, das mich, wenn es fertig abgelaufen ist, immer wieder mit einem gewissen Staunen zurückläßt und das nachklingt. Sollte in keiner Kraurock-Sammlung fehlen !
This album is the masterpiece of the group. Ixthuluh has earned a place in the annals of krautrock with this song collection. The album lives from outstanding electric guitars and the play with associated devices like reverb and delay. The extremely unconventional music arises how with Ixthuluh usually, from a largely free teamwork in which the musicians change and serve different instruments. These changes prove a very various album interacting, however, stylistically as a closed unity and appears matching, anyhow. The sketchy music which one knows from the other Ixthuluh albums also exists here, but, nevertheless, the pieces appear little bit more compact and less accidental on this album. The numbers from very quiet, almost meditative guitar electronic sounds, by the way played completely without keyboards, remind of the German sound handicraft enthusiasts from the early krautrock days, while with "The Long Trail To Gila Bridge" an increasingly wild rock piece executes nearly 25 minutes, orientated by no model, and expels Werner Katzmair as a marathon man on the E-guitar. In between shorter songs are found like "Love Pain", a piece that remainds me of the small songs of the early Pink Floyd. The mixture of it proves an album, which leaves me, if it has elapsed finishedly, behind again with a certain astonishment and this lingers. Should not be absent in any Krautrock collection!
---
review by golowin, Okt.2005
( http://www.progarchives.com/)
Das letzte Album von Ixthuluh hinterläßt einen gemischten Eindruck. Neben einigen Perlen wie "Camel Trophy" oder "Gefudel For The End" findet sich auch Mittelmaß.
Leider leiden einige durchaus starke Stücke auch unter der schlechten Aufnahmequalität, wie "Sailor's Dream" oder "Velvet". Hier wird es doch sehr deutlich, daß die (Live-)Aufnahmen nur mit einem einfachen Tonbandgerät aufgenommen wurden ohne die einzelnen Tracks nachher abzumischen zu können.
Dennoch ist das Album insgesamt sicher eine hörenswerte Sache, mit Stücken, die man vorher nie gehört hat. Die Band schert sich (wieder) einen Dreck um Hörgewohnheiten und mit "Hornet In A Bee's Basket" wird der Hörer auf eine arge Probe gestellt.
Die ruhigen "Desert Nights" mit Adi Nimmerfalls Flute oder Werner Katzmair mit "Gefudel For The End" zeigen die Stärken der Gastmusiker, mit den Ixthuluh gerne und oft aufgetreten ist.
Mir persönlich gefällt das unorthodoxe, egenwillige "Camel Trophy Through Seven Dirty Puddels" am Besten. Das ist der echte Ixthuluh-Offroad-Sound, wie er live am meisten begeistert hat. Und auch "Start Our Fuzzy Dreams" - der eigentliche Opener des Albums ("In The Bushes" ist ja eigentlich mehr ein Percussions-Gag als eine Nummer) - ist eine Reise wert. Hier spielt die Band mit einfachsten Stilmitteln ihre Stärke aus.


The last album of Ixthuluh leaves a miscellaneous mark. Beside some pearls like "Camel Trophy" or "Gefudel For The End" you will find mean.
Unfortunately some perfectly strong tracks are afflicted with the bad record-quality, like "Sailor's Dream" or "Velvet". It becomes apparent, that the (live-)tracks are recorded with a simple tape-recorder without possibilty to mix the tracks.
But all in all is worth listening to the album, with tracks never heard before. The band does't give a damn about auditory habits (again) and with "Hornet In A Bee's Basket" the listener will get a hard nut to crack.
The calm "Desert Nights" with Adi Nimmerfall on flute or Werner Katzmair with his "Gefudel For The End" show the potency of the guest-musicians, which loved playing with Ixthuluh often.
For me the best number is "Camel Trophy Through Seven Dirty Puddels" - this is the real Ixthuluh-offroad-sound, the sound the band played best at their live performnces. And "Start Our Fuzzy Dreams" too - the real opener of the album ("In The Bushes" is more a percussion gag than a number) - is worth for a trip. The group there plays off their strengths with plainest stylistic devices.


review by otto, mar 15.2006
http://www.progarchives.com/)
Dieses Album ist Vergnügen und Zumutung zugleich, man hat manchmal den Eindruck, daß sich die Band über den Zuhörerer lustig macht. Jedenfalls aber nimmt sie keinerlei Rücksicht und spielt eine Musik, die einmal so schmeichelnd und eingänglich ist wie "Sailors Dream" oder "Desert Nights" und dann wieder rumpelnd, ungeschliffen und sogar grob wie in "Hornet in a Bees Basket" oder "Camel Trophy Through Seven Dirty Puddel", wo man aufpassen muß, daß man keine dreckigen Ohren bekommt. Man kriegt das Album nirgendwo zu kaufen. Der echte musikalische Abenteurer muß es also herunterladen, die Band stellt das Material vollständig ins Netz, aber der musikalische Entdecker sollte meine Warnungen ernst nehmen. Eine brisante Mischung aus Hörbarem und schwer Verdaulichem, dennoch 3 Sterne, weil es allemal interessant ist.


This album is pleasure and imposition together, you sometimes have the impression that the musicians deride the listener. Anyhow they take no consideration and play a music which is once so blandishing and intuitive like " Sailors Dream " or " Desert Nights " and then, again, rumbling, unpolished and even coarse like in " Hornet in a Bees Basket " or " Camel Trophy Through Seven Dirty Puddel " where you must pay attention that you get no dirty ears.You can nowhere buy this record, the real musical adventurer must download it, the group puts the material entirely into the band's website, but the musical explorer should consider my warnings. An explosive mixture of audible and hardly digestible, 3 stars nevertheless, because it is interesting anyway.

review by slush, April 14,2006
(http://www.progarchives.com/)
Bootleg quality. Recorded with a 2-track tape recorder and cheap microphones. But some totally freaked out songs, far more better than many studio recordings. This isn't Ixthuluhs best album surely, but despite the low-fi-sound quality, it does capture Ixthuluh at a very unusual and crazy phase in their development. I'd recommend this to people who already know Ixthuluh, maybe from the previous Tea At Two. Of course, it's jam music, but this last line-up of Ixthuluh did a job without consideration to your sensitives and brings some compact songs, strange and different. Could be essential, but the sound is awful.